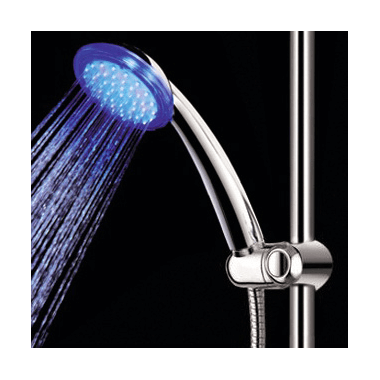 VIDEOS
LED Hand Shower 'L'Originale'
Meet the original hand shower that once defined the brand! Its unique, recognizable style combines a direct light effect and a see-through light effect around the edges of the shower head, the latter also visible from its back.
This model represents the third generation of our best-selling model, originally launched in 2012. It has been oftentimes copied, but never matched, as its performance and durability remain on top of the pack. That is also why we are able to offer a full 24-month warranty on this product. So please, demand the original quality only offered by La Douchette Magique!
LED hand shower with direct light as well as see-through light effects.
3 colors changing with water temperature: <30°C = blue ; 30-40°C = green ; >40°C = red
Edge of shower head glowing when in function
Works without batteries, thanks to the water pressure (dynamo effect)
Allows up to 30% water savings thanks to its integrated water flow limiter
Balanced, slightly conic-shaped jet for optimal comfort
Removable nozzle plate makes cleaning easy
Soft nozzles help prevent limescale buildup
Silent, reliable hydraulic generator
Easy to install on any standard shower hose
2 years product warranty
FEATURES
Product number: DM-17T
Body material: Chromed ABS
Number of LED : 6
Dimensions : 230 x 85 x 50mm
Weight: 173g
Certifications: CE, REACH, RoHS, ACS, EN-1112