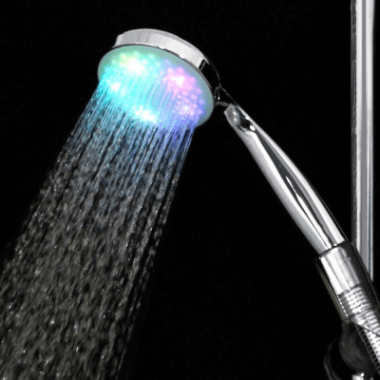 VIDEOS
LED Hand Shower Model RAINBOW
This LED hand shower is the newest model in our line-up. It features particularly stylish light effects, as well as a very unique industrial design.
The light effect alternates 7 different colors in progressive, subtle changes. We call this the 'Zen' effect, for the calm and serenity that it projects. As a side note, you can now find the Zen effect implemented within a number of other LED products from La Douchette Magique.
Furthermore, special attention has been given to the looks of the shower head. Its semi-opaque design boasts a magnificent blue lagoon color when at rest, yet lets the light effects fully come through when in function.
LED hand shower with semi-opaque head and light effect of 7 gradually changing colors.
7 colors with slow, subtle transition - the famous 'Zen' effect for a peaceful, relaxing ambiance
Blue lagoon head design makes hand shower look like a designer shower when not in function
Works without batteries, thanks to the water pressure (dynamo effect)of shower purifying balls (not provided)
Soft nozzles help prevent limescale buildup
Easy to install on any standard shower hose
2 years product warranty

FEATURES
Product number: DM-11R
Body material: Chromed ABS
Number of LED : 5
Dimensions : 210 x 85 x 50mm
Weight: 152g
Certifications: CE, REACH, RoHS, ACS, EN-1112