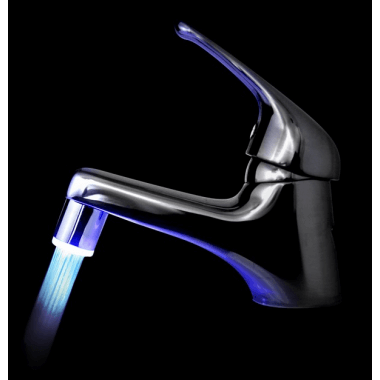 VIDEOS
LED Faucet Model MINI
This tiny (only 30mm) LED faucet aerator projects light towards the sink, creating a nice, indirect light effect that will fill the entire bathroom (or toilet room). The light color changes with the temperature of the water, giving warning when the water is very hot. In addition, the integrated flow rate limiter allows you to save up to 30% in water without compromise in effectiveness.
Use this LED aerator as a great home decor object, or give it as an original gift to your best friends!
LED faucet aerator, with light colors changing with the water temperature.
Light 3 colors varying with the water temperature: <30°C = blue, 30-45°C = green, >45°C = red
Light beams towards the sink
Tonic water jet
No battery required, works only with the water pressure thanks to its integrated hydrogenerator
Allows up to 30% water savings thanks to its integrated flow limiter
Silent operation
M24 connector makes it easy to mount on a standard, 24mm diameter faucet with internal threading
FEATURES
Product number: MM-12T
Material: Chromed ABS
Dimensions: 34 x 24mm
Dimensions (mounted): H 30 x D 24mm
Weight: 15g
Certifications: CE, REACH, RoHS, ACS