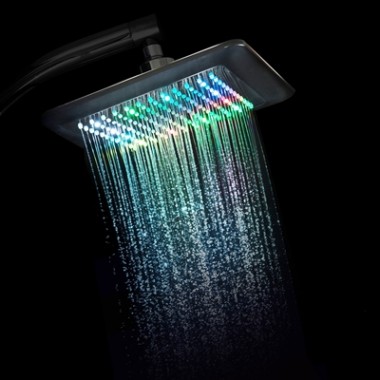 VIDEOS
LED Shower Head Model ZEN
Our award-winning shower head model Zen will easily find its place in your shower stall, with its modern design with slightly rounded edges, black and chrome dual-material finish, and ultra-thin section!
In function, the shower head will fill the shower room with nice and soft colorful light, each of the 12 LED lights displaying different colors that slowly evolve to the next in a gradual, perpetual way. We call this effect the 'Zen' effect.
With each shower, let yourself slip into a sensuous wave of beauty and serenity!
Square overhead LED shower shower with unique light effects.
Diameter 25cm with swivel head
LED light effects with gradually changing colors -the famous 'Zen' effect for a peaceful, relaxing ambiance
Chrome/matte black body design
Works without batteries only with the water pressure
Soft nozzles help prevent limescale buildup
Easy to install on standard extension arm or shower system
2 years product warranty

FEATURES
Product number: DTM-350
Body material: ABS, chromed ABS
Number of LED : 12
Dimensions : 250 x 250 x 85mm
Weight: 668g
Certifications: CE, REACH, RoHS, ACS, EN-1112