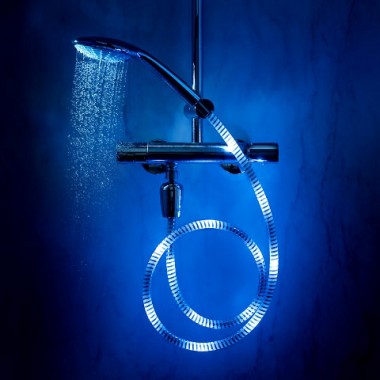 VIDEOS
LED Shower Hose
A major innovation for the bathroom world, let us introduce the first shower hose that lights up automatically as the water flows through it. What is more, it works only with water power... no battery or external power source!
The light effect thus created, a perpetual wave of blue light running all along the shower hose, is both stunning and mesmerizing. Check it out for yourself in the below video!
LED shower hose that illuminates when water runs through it.
Creates a wavy light effect when water flows through, thanks to 12 LED built in the hose
No battery required
Saves up to 30% water with integrated flow limiter
Standard length 150cm
Install on any standard, 1/2" shower faucet, with 30mm minimum free space around the faucet screw
1 year product warranty
FEATURES
Product number: FML-35
Materials: Reinforced PVC (hose), chromed ABS (hardware and connectors)
Anti-twist connectors
Dimensions (hose only): L 150cm x D 14mm
Dimensions (total): L 159cm x D45 mm
Weight: 338g
Certifications: CE, RoHS, EN-1113, REACH, ACS