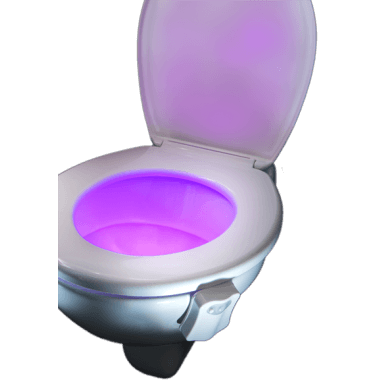 VIDEOS
LED Toilet Light
Our LED toilet light will instantly win over kids and grown-ups with its magic and usefulness. Able to detect motion as well as ambient light level, the toilet light will turn on automatically upon arrival of a person (or opening of the toilets door), if no other light is turned on. Very useful at night!
What is more, the light effect will light up the toilet bowl in an amazing festival of colors, letting you pick a specific color (among 8) or just rotating all colors in an impressive light-show!
LED toilet night light with automatic function.
Illuminates the toilet bowl in colors
2 modes of light: slow scrolling of colors ('Zen' technology), or fixed color selectable among 8.
Light sets off automatically when motion is detected within 2m, and turns off automatically after 30sec.
Only sets off in dark environments thanks to the integrated light level sensor
Easy to mount on any standard toilet bowl thanks to its waterproof, washable, articulated arm
Works with 3 AAA 1.5V batteries (not included)
1 year product warranty
FEATURES
Product number: VT-02RL
Material: ABS
Dimensions: 70 x 67 x 21mm
Weight: 40g (without batteries)
Certifications: CE, RoHS